Causes and Location of Fall Injuries in the Elderly
03 Jul 2018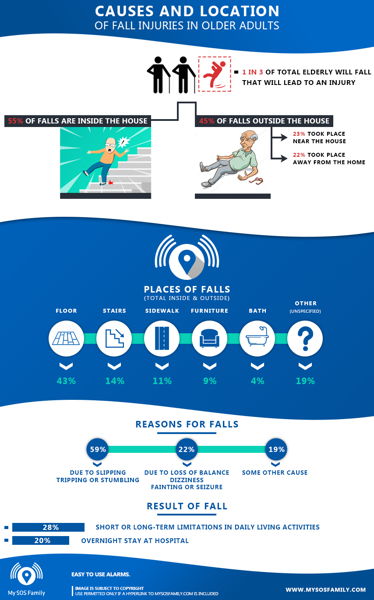 30% of total elderly who will fall will lead to an injury
That's nearly 1 out of every 3 people and when over 65 that increases to 2 out of 3 people.

> Where are you more likely to fall, indoors or outdoors?
Surprisingly its pretty even;
55%, that's just over half the Falls are inside the House -
45%, that's just under half of Falls occur outside the House
>My SOS Family emergency alarm app for the elderly helps you when your Home ;
Our suite of personal safety Apps will help you when your at home to get help fast from your emergency contacts quickly.
Suite of Apps for:-
-Home phone/cordless phone
-Smart Speakers like Amazon's Alexa or Google Homes speaker,
-iPad & Android Tablet
-Basic cell phone.
-iPhone or Android Smartphone.

Surprisingly of the 45% of Falls that happen outside the house :
Half of them that's 23% are taking place near the home,
The other half i.e.22% are happening somewhere away from their home.
>My SOS Family Personal Safety App helps you when your Outside near of far from home.
Our service is linked to your;
- Smartphones like iphone or Android.
- Basic mobile cell phone
- Cordless phone with long range.
When looking at the total falls and Places these fall happened (total Inside & Outside)
About half, that's 43% are at ground or floor level.
1.4 in 10 (14%) are whilst on stairs or steps
1 in 10 (11%) is on the Curb or sidewalk
1 in 10 (9%) is whilst on furniture like a Chair or Bed
1 in 20 (4%) is whilst using the Bath,shower or toilet
with 2 in 10 (19%) as unknown or unspecified.
My SOS Family Emergency Alert App helps anywhere 24/7 whether it's outdoors or indoors.
Using the Smart Speaker Personal Safety App called My SOS Family means should you fall you just say "Alexa" or "OK Google" and "Start My SOS Family".
Using a Cordless phone in the garden or anywhere in the house you just use the speed-dial function.
Using a Smartphone you can use the onscreen emergency panic button or just tell the phone hands-free to call My SOS Family.
These are the main reasons why older adults will falls
2 out of every 3 falls (59%) is due to slipping, tripping or stumbling
1 out of every 5 falls (22%) is due to the loss of balance, fainting, seizure or dizziness.
2 out of every 10 falls (19%) is due to some other cause
When someone falls what will the outcome /result of Fall be:
Just under 1 in every 3 (28%) will result in short or long-term limitations in daily living activities, possibly needing a stick or support.
1 out of every 5 (20%) results in an overnight stay at hospital.

Here are some tips on making your place safer [Making every part of your home safer]


Having a simple and cost effective Personal Safety App like My SOS Family in place helps to get help faster and could mean the road to recovery is much faster.

Try it free for 14 days no commitments, no credit cards.
Basic sell phones and Home corded or Cordless phones use this link : SPEED-DIAL-SOS
SMART SPEAKERS like Amazon Alexa or Google Home use this link : VOICE-SOS , set up an account then open either Alexa or Google Home App, search for My SOS Family and link the account, check your email for username and password. (PS you can create an account from with the Google home or Alexa Apps).
For Smartphones click on the link below: